I CAN DRUM, SO CAN YOU!
Personalised drum lessons from 3 years and up, even in the comfort of your own home.
BOOK YOUR TRIAL
I CAN DRUM, SO CAN YOU!
Personalised drum lessons from 3 years and up, even in the comfort of your own home.
BOOK YOUR TRIAL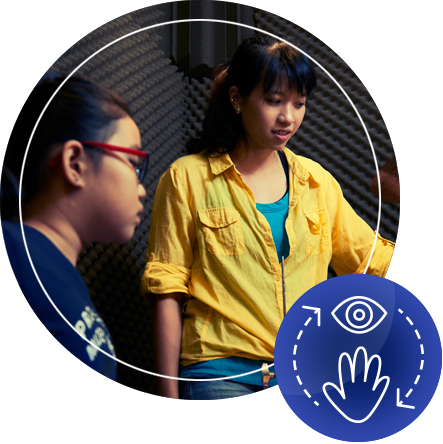 motor skills development
Starting your child young will enhance this skill set a lot quicker. this includes hand-eye coordination, as they learn to read drum notes while playing concurrently. helps to boost brain power and stimulates the part of the brain for reading, math (counting) and listening skills.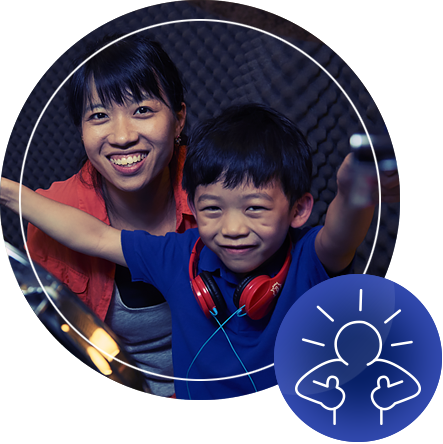 build confidence, patience & discipline
children tend to build greater self-confidence especially when they are able to perform in front of a crowd. There is a sense of pride when their talent is acknowledged. However, talent building is dependent on countless hours of practice, which in turn builds patience and discipline.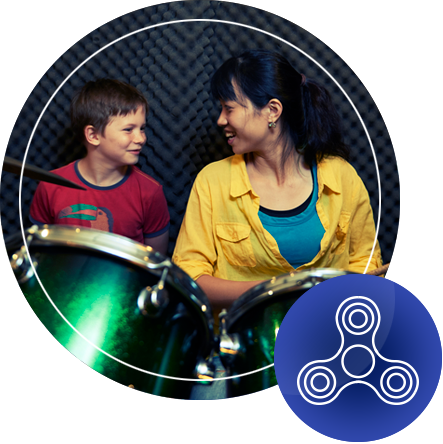 Stress Relief
drums can be a great way for your child to unwind amidst stress from studies. Children who are inclined to music learn to relax and calm themselves down.
I believe in making learning not just fun, but also personal. I take time to understand your child's traits, learning abilitIES, and preferences. Teaching methods and lessons can be modified to suit each individual. Games and fun exercises are incorporated into lessons as well.
For younger children, I use worksheets that encourage colouring and drawing to help your child remember parts of the drum set and notes.

I'm fun-loving yet patient. I know how to be a teacher and a friend. Students feel comfortable talking to me and this helps them learn better as they will be less hesitant to ask questions and discuss about drumming.
Classes can also be conducted in the comfort of your own home, as long as a drum set is available.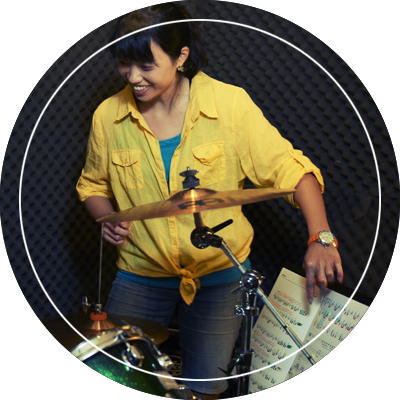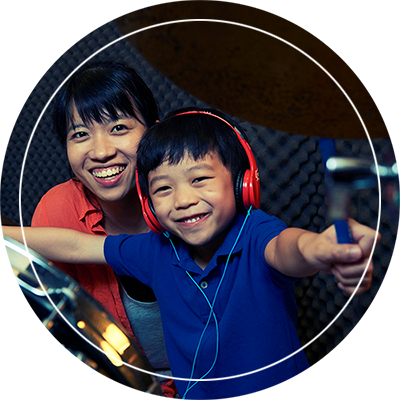 If your child is a beginner, start from the basics. Drumming is all about rhythm and timing, so there will be a whole lot of counting! A drummer is usually the "timer" in a band. So practice with metronomes too!
I emphasise on learning how to read drum notes as well! rest assured, it's not as "scary" as it may seem. Drum theory is extremely important especially when your child advances
to a higher level and the grooves become more challenging. Drum notes are visual tools to help us understand what we are playing.
Lastly, effort begets results. Practice! Practice! Practice! This is part and parcel of being a musician. With practice, my students are usually able to play to a song after just two lessons!
I was 13 when I first saw and heard someone playing the drums in church, Up close and personal. The beats, the sounds, a symphony. I was mesmerised. I started like any other teenager and signed up for classes at a music school. I was the only girl in class. That did not stop me. My hands and feet flew with every new rhythm I learnt.
Along the way, I served in church as the main drummer. This helped me put what I learnt into practice. As I grew in confidence and ability, my teacher started to assign students to me at the music school. That's when it all started.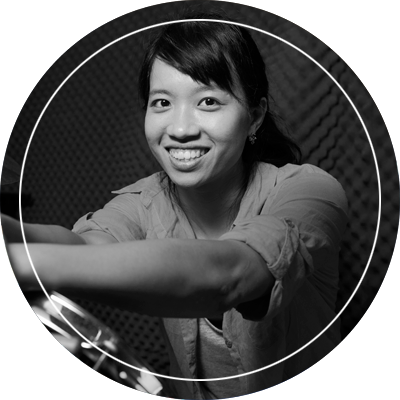 After ten years of teaching, I still love what I do! Each individual student is unique, and it remains a great privilege to be able to play a small role in their lives. And like my students, I am still learning to be a better drummer!
Teaching is satisfying. When I see students able to overcome each new challenge, I feel a sense of achievement. Some may get it quick, others take a little longer, but the joy on their faces when they've mastered a song or challenging exercise brings much delight!
I signed up for exams on my own through the years and have earned distinctions for Rock school drum exams up to Grade 8. This has been no easy feat. But with practice and perseverance, I believe anyone can do it!
"We started Isaac off on drums at a tender age of 2.5 years. He just turned 10! Under the wonderful guidance and mentorship from Christine through the years, we have witnessed Isaac grow from strength to strength in skillset and passion. He recently took part in his very first competitive gig at the Asian Supreme Drum Competition 2022 where he drummed to a National Day Theme song, "Reach Out For The Skies". View his performance here: https://www.instagram.com/reel/ChXUPBsloUS/
As parents, we are extremely proud of how far he has come, and hope he maximises his potential for greatness. Christine has been his pillar of support and motivation all these years, and we would vouch for her wholeheartedly if you are looking out for a drum coach!"
– Isaac's Mummy
"Christine has been my drums teacher for 10 years. She's always able to point out my strengths and where I need improvement. Her lessons are very fun, and I enjoy them a lot! Instead of feeling like a lesson, it feels more like a lively jamming session.  She has helped my joy for playing the drums grow.  I'm glad I have her as my drums teacher!" – Chrisllynn Siah, 13
"Christine has been coaching our daughter for the last 10 years, since our child was only 3 years old.  At 13 this year, she is sitting for her Grade 8 drums exams.  We are grateful to Christine for she has been instrumental in developing and nurturing our daughter's love for percussion instruments.  Under Christine's tutelage, our daughter has honed her drumming skills and we are heartened to see the progress our child has made over the last decade." – Mrs Siah
"Our son, Julian, started drum lessons with Christine almost 9 years ago, when he was 4. We have been incredibly lucky to have had her as his drum teacher all this time. She was patient, kind and approachable when teaching him as a young child, and kept him interested in pursuing drums despite having no drum set at home to practice on or drum exams to work towards. As he grew older and started taking drum exams, she continued to keep lessons fun and challenging, and helped him achieve excellent results in his Grade 5 and 6 exams. We are also grateful to her for accommodating changes in his busy school schedule, and for letting him learn all sorts of random songs. Our son expresses it best: Christine is an awesome teacher who can play anything, and teach anything. She can break complex grooves into easy to understand parts and has a fantastic understanding of music." – Kathleen Tan, Mother of Julian Lee, 12
Frequently Asked Questions
🎵What is taught during lessons?
You will learn how to read drum notes, values and various groove-and-fill rudiments. Songs from the exam syllabus will also be taught TO PROVIDE exposure. It is important for students to get to know the different genres.
Students also get to learn how to play ALONG to their favourite songs!
⌛How long and how often should each drum lesson last?
For ages seven and below, lessons span 30 minutes.
If longer classes are preferred, arrangeMENTS CAN BE MADE.
For those eight and above, lessons ARE TYPICALLY 45-60 minutes long.
Lessons will be held once every week to ensure skills are sustained and PROGRESS IS CONSISTENTLY MEASURED.
⏱️How quickly will students learn to play the drums?
Generally, students manage to play a full song WITHIN 1-2 months!
☹️What happens if I cannot make it for lessons?
Do inform at least 1 day before the lesson. We can postpone the lesson and arrange for a make up class.
Classes canceled at the last minute will be forfeited and charged ACCORDINGLY unless due to unforeseen circumstances.
If the student is not feeling well, an MC will be required to postpone THE lesson.
🏠Where are drumming lessons conducted?
If you have a drum set at home, we can hold classes THERE. Alternatively, we can have lessons at a music studio nearest to your HOME.
🏦How is payment made?
Fees will be collected in advance for every 4 lessons. 
Payment by cash / cheque / PayNow are available.
💯Do I have to take exams?
It is not compulsory to take exams. However, if students intend to take the exams, they will be trained using the syllabus of The RockSchool and Trinity Rock & Pop.